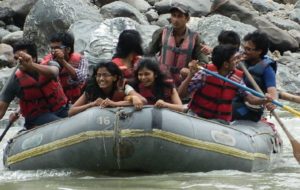 White Water Rafting In North East India
Region : Northeast India.
White water rafting Spots : Sikkim, Assam
White Water Rafting in Northeast India
White water rafting has become one of the most liked attraction in the northeast India. In the past few year, it has been accepted by the few state of northeast India. White water rafting is a later entrant of adventure sport in the northeastern state of Sikkim in India. The White Water Rafting is also experienced at the mighty Brahmaputra, passing through the northeastern states of Arunachal Pradesh and Assam.
White Water Rafting at Teesta and Rangit
The Teesta and Rangit rivers offer long stretches which are ideal for safe rafting. Teesta has been graded on the International scale at Grade 4. The icy cold waters of the rugged Teesta have a series of rapids with changing intensity and character. Teesta in Sikkim offers one of the finest white water rafting stretches in the world. Rangit, a tributary of the Teesta, has more roaring waters and offers a challenge to more experienced and expert river rafters.
Rafting is an enjoyable experience in these two rivers, as the riverbanks here have deep forests, with some patches of terraced cultivation, and small villages. Facilities for overnight River beach camping is available here at Sikkim. Amateur as well as experienced rafters can seek the assistance of the Department of Tourism and travel agents for arranging river rafting trips to these rivers at Sikkim.
White Water Rafting at Mighty Brahmaputra
Brahmaputra in Arunachal Pradesh and Assam offer a great scope of rafting for the tourist coming from all over. The abundant water of Brahmaputra with challenging sections is truly a memorable experience.
Brahmaputra is known as Siang at Arunachal Pradesh. The over roaring white waters of mighty Brahmaputra cascading down the heights of immense beauty across Tibet into the north-eastern state of Arunachal Pradesh is an exciting experience for the rafters. Though inaccessible, the region is the ultimate destination a rafter can look for.
An unmatched experience
White water rafting is recently introduced in Sikkim and Darjeeling as an adventure sport. Since 1991 the white water rafting has gained tremendous popularity. The icy cold foaming and roaring water of Teesta and Rangit River extend a challenging invitation for a unique rafting adventure.
The Rangit and the Teesta Rivers are graded in the international level at I to IV and present one of the finest rafting starches in the world. The turbulent waters of Rangit with its multidimensional rapids provides the rafters the scopes of practicing their skills and the spectacular scene along the river courses through the gorges and valleys make the rafting adventure a memorable experience.
Deys Holidays  along with the Department of tourism, DGHC (Darjeeling Gorkha Hill Council), a semi Govt. institution have made elaborate arrangement for the rafting lovers from all corners of the world. We offer various rafting packages in different Grades depending on the choice and skills of the rafters. Some of the packages combine with overnight camps on the riverbanks.
The Popular Rafting Courses in Teesta 
Most popular place in Darjeeling where most tourists go for white water rafting is Teesta Bazaar. Rafting starts at Tarkhola and the popular rafting course goes up to Kalijhora.
It takes about 1.5 hours by taxi or shared jeep to reach Teesta Bazaar from Darjeeling town. Here are the most popular courses for rafting:
For non-swimmers: 
1) Melli to 29th Mile (1.5 hours)
2) Melli to Kalijhora (3 hours)
For swimmers only: 
1) Tarkhola to Melli (2 hours)
2) Tarkhola to 29 Mile (3 hours)
There are longer sections also. For example Bordang to 29th Mile takes about 4.5 hours and involves grade 2-4 rapids.
Best time for rafting in Teesta
You should avoid the monsoon (July to September). All other months are good for rafting. The best time for rafting in Teesta (Darjeeling) is between December to June. But note that during winter, water can be ice cold.
Some important points to note
One has to sign 'Assumption of Risk and Release' bond before undertaking the rafting trip.
Foreign tourists require to carry their passport which needs to be shown while signing the bond and also while crossing the Teesta Bridge.
You should wear shorts and carry extra pair of shoes/sneakers, sun screen lotion, water bottle, an additional set of dry clothes etc.
If you have heart problems, epilepsy etc, it is advisable not to undertake the trip.
You must not drink alcohol at least 6 hours before the trip.
Nearest city:
• Kalimpong – 15 kms
• Darjeeling – 45 kms
• Siliguri – 52 kms
Advance booking for White Water Rafting and Camping
• Persons interested to make a booking for rafting and camping on Teesta and Rangit River can send an email to deysholidays@gmail.com or fax a massage or by telephone at Deys Holidays office.
• Confirmation should be made at least 7 days prior to arrival for Indian and 15 days for Foreigners.
• 50% advance of the total amount has to make either by Electronic Transfer, Cheque or demand Draft. The balance is payable on arrival. (See the Payment Procedure Section for detailed information)
• Minimum four persons are required for a rafting programme. However, a group of less than four persons can take a full raft at the cost for four persons or can join a group depending on the availability.
For Details & Booking please contact to deysholidays@gmail.com Or sales.deysholidays@gmail.com

Other Destinations for Rafting :-